Announcement
More editing options
Congratulations to
Viking Green - 2nd Grade
2016 State Champions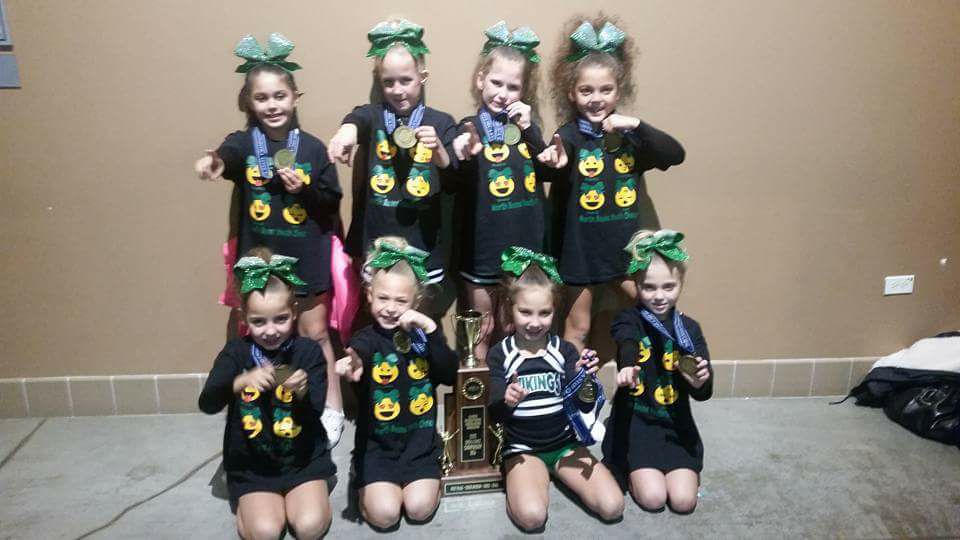 Vikings Black - 5th Grade
3rd Place State finalists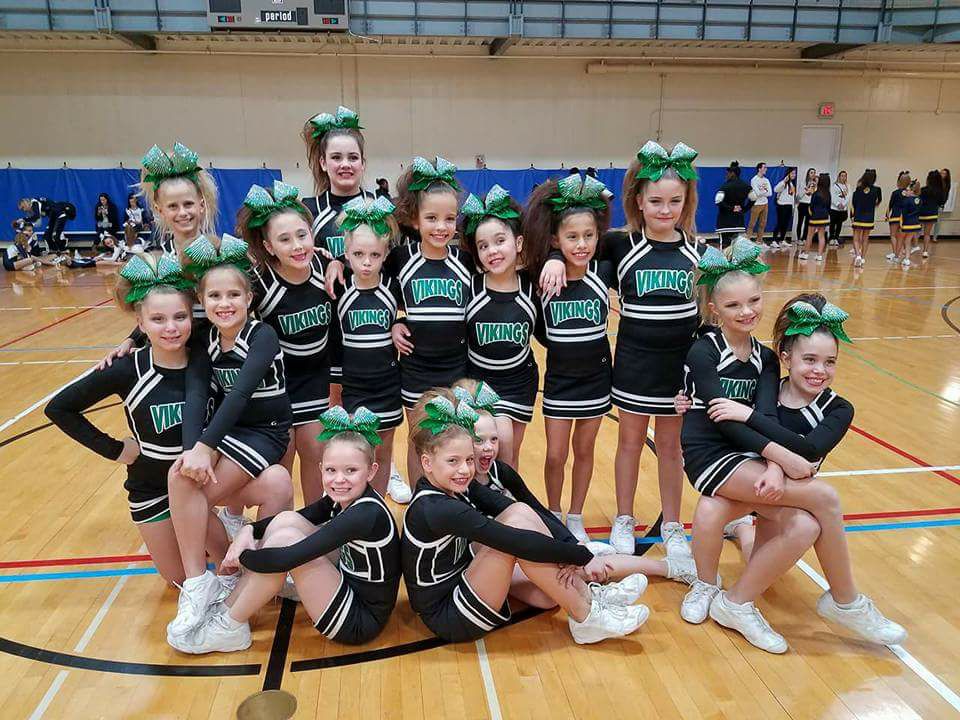 Vikings White - 8th Grade
3rd Place State Finalists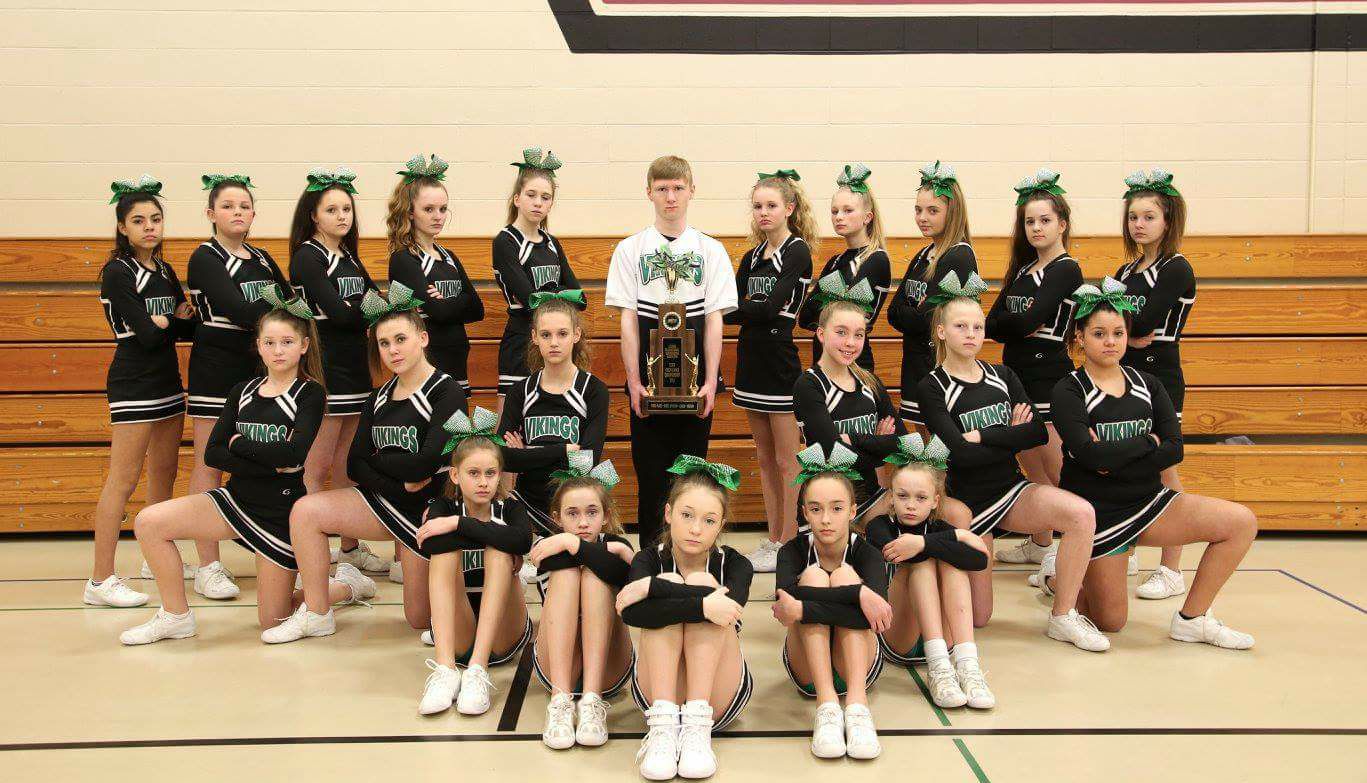 Who can join competition cheer? Incoming kindergarten-8th grade girls and boys
What is NBYC competition cheer? NBYC competition cheer competes at up to 5 Illinois Recreational Cheer Association competitions to qualify for IRCA State.
When is NBYC cheer season? Cheer season is July-December
Why should my athlete join competition cheer? Come join one of the most successful IRCA competitive teams in the area to have fun, learn about cheer, and make memories for a lifetime!
What is the cost of competition cheer? Program fee is $375 due by uniform fitting in June. This includes full uniform, cheer shoes, bow, music fees, practice space rental, cheer camp, and 3-5 IRCA competition entry fees. For those teams making it to IRCA State (which will most likely happen), an additional $140 mandatory entry fee will be due by November 1st. This includes athlete entry fees to State, spectator admission to all 3 days of State, and parking at the Sears Centre.
Is fundraising available for fees? Payment plan and fundraising will be available for remaining fees. More information will be given at the parent meeting in May. All athletes will also participate in fundraising for the purchase of cheer mats. Program fundraising is mandatory, or you can buy out of program fundraising.
When and where are practices? Most practices will be held at Capron Elementary School and North Boone Upper Elementary. Practices will be held 2-4 times per week, which will vary throughout the season and by squad. All squads will hold Sunday afternoon practice and practices during the week. As competitive cheer is a team sport, it is necessary for cheerleaders to attend all practices.
When and where are competitions? Below are the competition locations and weekends. Each squad will compete on only one day of each competition, which will be announced at the beginning of the season. All competitions are mandatory.
Opening Day, September 30th and October 1st, Dundee Crown High School, Carpentersville, IL
Cheer Rock, October 21st and 22nd, McHenry West High School, McHenry, IL
Cheer Pink, October 28th and 29th, Oswego High School, Oswego, IL
Cheer Revolution, November 4th and 5th, Hampshire High School, Hampshire, IL
Final Fling, November 18th and 19th, Jacobs High School, Algonquin, IL
Illinois Recreational Cheer Association State Competition, December 1-3, Sears Centre, Hoffman Estates, IL
Which squad will my cheerleader be on? Squads will be split depending on the number of participants in each grade level. Each squad will be composed of up to three consecutive grade levels. NBYC squad division will occur after all registration has been completed.
What is the difference between sideline and competition cheer? Competition cheer is much more of a commitment in practice times, financial obligations, and length of the season. Sideline cheer cheers for North Boone Junior Tackle football games on Saturdays and practices are generally held once a week. Sideline cheer season is end of July-mid October. Cost of sideline cheer is $125, which includes uniform rental and bow.
Can my athlete participate in both sideline and competition cheer? Yes, all fees and requirements for both programs remain the same.
How do I register? All registration will be online at nbyouthsports.com, NBYC Competition Cheer.
Registration is open April 24th-May 24th. Join early to guarantee a spot! Questions? Email: nbyscheerleading@gmail.com Like us on Facebook: North Boone Youth Cheer
Comments
There are no comments for this announcement.